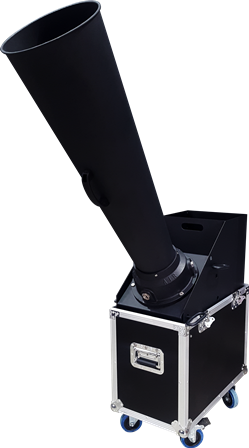 The FX BLASTER XL  is a superior quality, CO2-charged standalone FX unit that shoots powerful blasts of confetti using safe and easy to handle CO2, with the power to deliver crowd-dazzling confetti or cryogenic-blasting visual effects.
The FX BLASTER XL is precision designed to the highest engineering standards, providing consistently superior performance and long-lasting reliability. With its massive, sky-high blast range and adjustable 4-postion nozzle, this popular unit has enjoyed wide use at big shows and sporting events held in large venues like arenas, stadiums and large outdoor settings.
It can be used on its own with manual trigger, or slaved via 230v solenoid valve to a remote FX CONTROLLER (available separately) for multi-element applications.
The FX BLASTER XL is simple to clean and maintain, and comes with its own rugged flight case.

– Flight case and high pressure CO2 hose (3m)
– Adjustable 4-position output nozzle
– Easy to clean
– Manual Valve
Size: 67.5x38x163cm
Weight: 50 kg
Service: Manual or DMX
Blast range: 20-25m
Warranty: 1 Year
Product code: FX-312.01