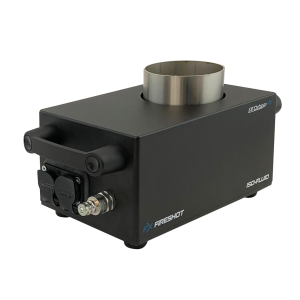 The FX FIRESHOT ISO is a elegant small device that could be mounted any where on the stage.
Its small and light design makes it not difficult to put on heights or difficult to reach places.
Consumables will stay on the floor for easy replacement during the show. A fast trigger speed and great height of 12m makes this flame a one of a kind in his series.

Produces a fantastic Flame Effect.
Linear flame projection.
Designed and produced in the Netherlands.
Powder coated steel housing.
Adjustable flame height up to 12 meters.
Easy to operate and user friendly.
Connect up to 4 units to the ISO-FLUID Splitter Tank.
Able to control through DMX by means of the PROSTAGE-FX® FX DMX Switch.
Mounting inserts; able to mount on truss or stage.
Size: 14.5x29x15cm
Weight: 2.5kg
Voltage: 220 – 240 V
Power: 125W
Connection: PowerCon True
Consumption: Isopar H 
Flame Height  12m
Warranty 1 year 
SKU FX-601.01