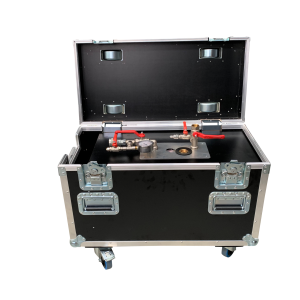 The FX ISO SPLITTER is a must have in your setup if u want to change your isofluid easy and safe on the floor.

No climbing is required to refill your flames. With the pull of a handle you ready to go again.

Designed and produced in the Netherlands.
Build in a flight case; easy and safe to transport.
No power supply needed.
Easy to operate and user friendly.
Able to supply up to four PROSTAGE-FX® FX
Fireshot units with Isopar H.
Size: 39x79x65cm
Weight: 20Kg
Working Pressure: 17 – 30 Bar
Consumption: Isopar H
Capacity: 20 Liter
Warranty 1 year 
SKU FX-650.05