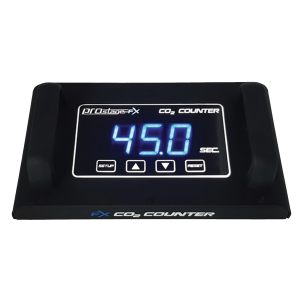 The FX CO2 COUNTER is specially designed to keep track of your CO2 consumption during events.

This product can also be used in fixed installations that use 1 bottle for more than one day, since last known states will be saved.
The FX CO2 COUNTER is compatible with other ProStageFX devices like FX CO2 JET and the FX BLASTER XL* on the consumable side. To control the device both the FX CONTROLLER and the FX DMX SWITCH can be considered.
*only FX Blasters upgraded with solenoid valve for electric control.

Easy to Control using 4
Buttons with backlight
Internal storage to save last known value
Bright LED display allows reading on greater distances
Wide range (0.1~999 seconds) allowing different CO2 systems to be measured
Powercon in-out for multi-unit linking, both
Power and Signal inputs
Black powder-coated galvanized steel finish
Sturdy handles for easy carrying
Carrying Case (available separately)
Size:                 28 x 15.5 x 9.2 cm
Weight:             2.5 kg
Voltage:           110-230 V / 50-60Hz
Power:              12 W
Warranty:          1 Year
Product code:   FX-921.01